SKELETONS OF THE WEEK, MAY 27: A BUNCH OF MONKS AND PILGRIMS IN THE SINAI DESERT




My cats come up with some odd playthings. I came in today to find one of them batting a small, square black object around the living room. I picked it up–she was playing with a compact flash card from a camera she had found God knows where. Against her objections (since it was a fine toy no doubt), I plugged it into my computer and made a curious discovery: these were photos of the charnel house at St. Catharine's monastery in Sinai, Egypt, photos I took in 2008 and thought were completely lost. In fact, when I prepared the material for Empire of Death I searched for these exact photos for weeks, and finally gave up. I decided I must have somehow left them in Egypt. The only photo from this site we published was one that I had taken with a small backup camera that I had brought with me.



The monks have been saving the bones of member of their monastery and also pilgrims who died on the property for almost 1500 years–St. Catharine's was founded by the Emperor Justinian, and is the oldest Christian monastery. It is also the oldest surviving Christian charnel house (and it was probably the first). The skulls were separated and put on one side of the room, and the rest of the bones, seen in the picture above–a much more grisly conglomeration–were placed in stacks on the other side. As the photo shows, these were not just long bones. Even arms which are still intact can be seen poking out of the pile.



The bone room at St. Catharine's also contains niches for privileged sets of remains, such as shown in the photo above. These niches contain one or maybe two disarticulated skeletons. These were abbots, bishops, and other people of high ecclesiastical rank, so that they could be preserved the indignity of falling into anonymity with the bones of less esteemed people. I wish I had known where these photos were a couple years ago when I was preparing the book. Pity. I guess I should have just asked the cats where the pictures were, it would have saved me a lot of trouble and a lot of grief.

The book Heavenly Bodies by Paul Koudounaris, a history of skeletons taken from the Roman Catacombs, will be released Fall 2013 by Thames and Hudson. Images from the book will be featured in a gallery show at La Luz de Jesus in Los Angeles, and the book is available for pre-order via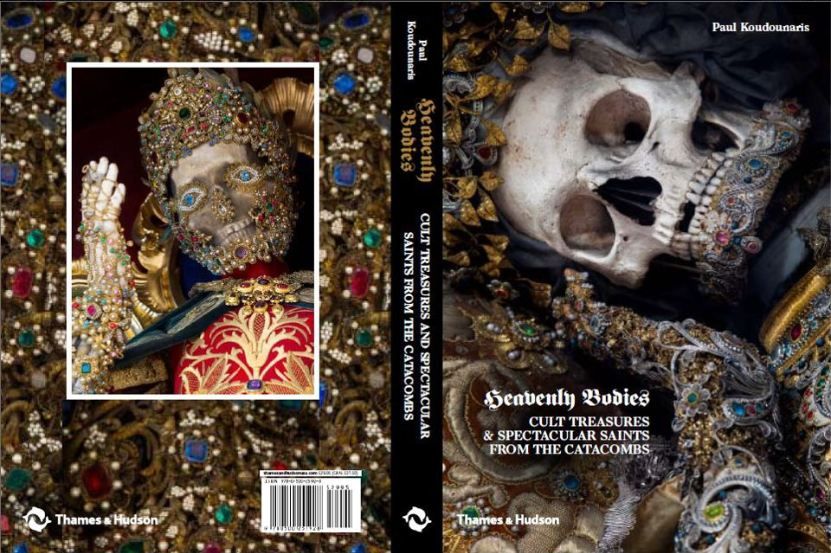 Find the Empire of Death on Facebook:Facebook:

http://www.facebook.com/empireofdeath