SKELETON OF THE WEEK, APRIL 15: ST. LONGINUS OF TUNZENBERG, GERMANY



Longinus was the name of the Roman centurion who pierced the side of Christ with his lance, and later became a Catholic saint. This skeleton is not him. In the seventeenth and eighteenth centuries, excavators often discovered skeletons in the Roman Catacombs which they believed based on circumstantial evidence were those of martyrs, but were of indeterminate identity. If they didn't know whose remains they had found, they would either invent names for them, or name them in honor of famous people in Catholic history.


Rib detail, St. Longinus
That is how this skeleton became named St. Longinus. As to its actual identity, there is no record, nor did I ever find much information about the skeleton after it came to Tunzenberg–the chapel it is enshrined in is small, and was once part of a chateau that went through various hands. By the early twentieth century it was still all private property under one owner, but I was told that at some point after World War II, whoever owned it sold off everything and moved to Argentina. I never got a clear account of exactly who this person was, but it sounds suspiciously like the property had been owned by a war criminal. At that point, it was divided up, and the chapel became public property. Because of this, there are almost no useful, extant records. I did, however, find a very weird account dated to the late eighteenth century. It mentioned a large number of blind people who had come around. The account said they were banging on doors with their canes, asking for directions to the chapel. They were not welcome at the property, and since they couldn't see where they were going, they were knocking over and breaking things, and causing a general ruckus. Whoever wrote this down also advised that precautions be taken to not have the blind people return the next year. It all seemed odd. Then I noticed that account was dated March 15.
March 15 is the feast day of St. Longinus–or at least, the feast day of the real St. Longinus. When I looked into it, sure enough it turned out that St. Longinus was considered a patron saint of blind people, and suddenly it all made sense. How were these blind people to know this was not the real St. Longinus? He
was
, after all, enshrined under that name, and back then probably only a scholar would be aware that the real St. Longinus was down in Mantua, Italy. So the blind people came around, wishing to visit the shrine in the hopes that he would restore their sight. That they were unwanted and rebuffed by the people who ran the chapel is sad, but maybe for the better–this anonymous skeleton couldn't restore their site, so at least they only lost faith in their fellow men, rather than in God.
The book
Heavenly Bodies
by Paul Koudounaris, a history of skeletons taken from the Roman Catacombs, will be released Fall 2013 by Thames and Hudson. Images from the book will be featured in a gallery show at La Luz de Jesus in Los Angeles, and the book is available for pre-order via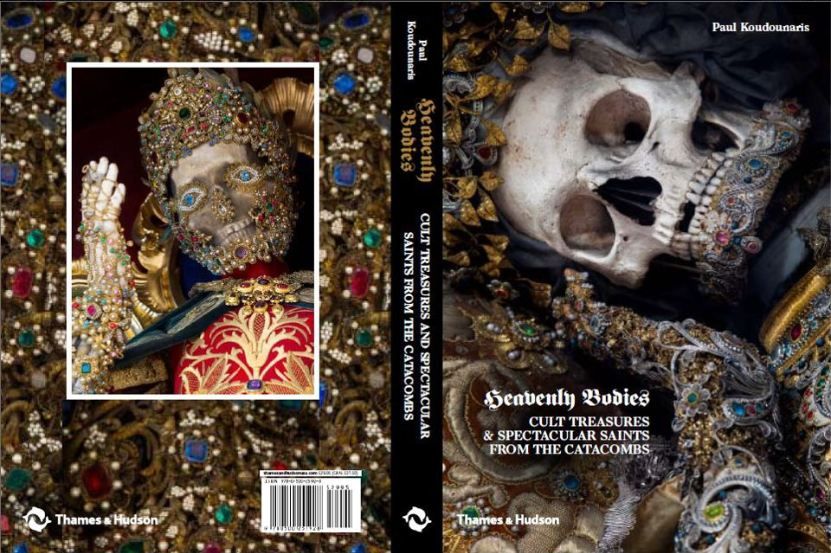 Find the Empire of Death on Facebook:
Facebook:

http://www.facebook.com/empireofdeath