We are pleased to bring the Sex Ghost lecture to Berkeley's famous Bone Room.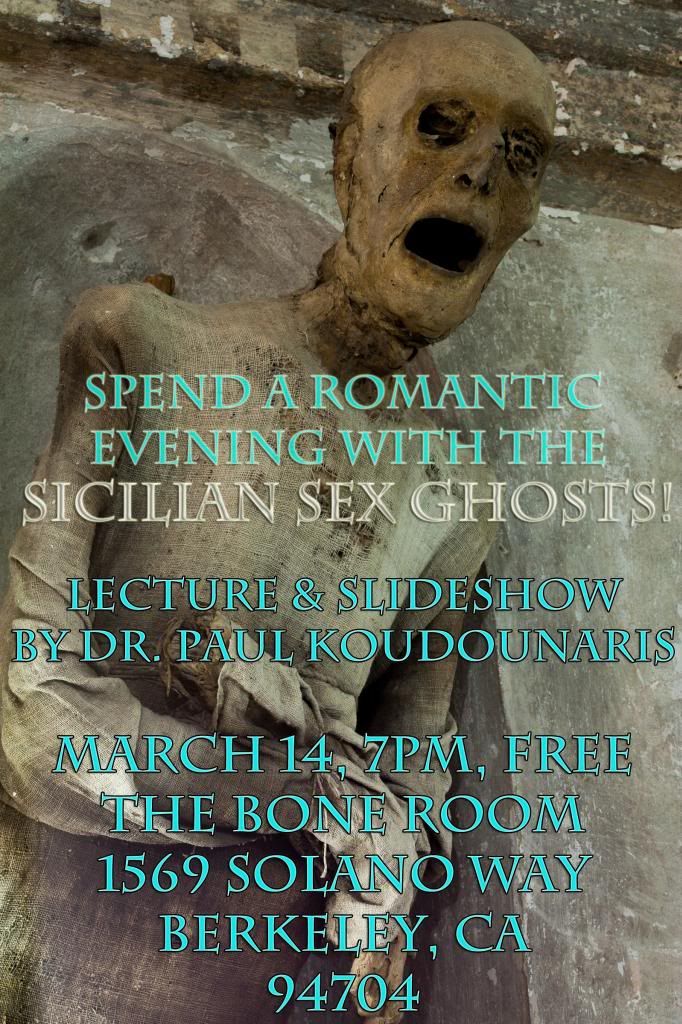 Do you like sex? Do you like Death? Do you like Sicilians? If you answered yes to any of these questions, join author/photographer Dr. Paul Koudounaris, as he presents an in-depth lecture with full slideshow on the Sex Ghosts of the Palermo Catacombs, and the history of reported sex between humans and unknown spectral apparitions.
Over 400 years ago, the monks of Palermo's Capuchin monastery began mummifying their own brothers and prominent local citizens, and displaying their bodies in subterranean galleries. The result was one of the world's most haunted sites. But many of these ghosts were not content to simply roam the passageways rattling chains–death had apparently not quelled their sexual appetites, and with libidos in overdrive they took to the streets of the city to fulfill their lecherous needs. Dr. Koudounaris will explore this fascinating folklore in a uniquely bizarre lecture, illustrated with his own photographs of the mummies still preserved in Palermo.
Event: Sicilian Sex Ghosts–lecture and slideshow by Dr. Paul Koudounaris; also, book signing (Empire of Death)
March 14, 2013, 7 pm
The Bone Room, 1569 Solano Way, 94707
510 526 5252
This is a free event
For previous press on the Sicilian Sex Ghost lecture, see:
http://www.brooklynpaper.com/stories/35/48/24_siciliansexghosts_2012_11_30_bk.html
http://thehairpin.com/2012/12/death-ghosts-and-paul-koudounaris
http://animalnewyork.com/2012/sicilian-sex-ghosts-haunt-gowanus/